Introduction
Proposed Aras Geopark is located in eastern Azerbaijan Province of Iran. The Geopark has an area of about 1670 square kilometers and spread across the whole Jolfa county.
From a natural geographical view, this mountainous area is the southern end of little Caucasus that encompasses countries include Armenia, Nakhchivan Autonomous Republic and northern Azerbaijan of Iran. This mountain alongside with Alborz and Zagros are forming middle part of Alpine-Himalayan Orogeny that stretches from southern Europe to eastern Asia and acting as a natural barrier, caused a great diversity in climate, life and cultures in each two sides slopes.
 The main source of precipitations is the Mediterranean wet air fronts which enter the area on early autumn to mid-spring from northwest and west, and forms an average precipitation about 250-350 mm per year.
The topography is generally extremely steep, and forms astonishing landscapes, so that the highest point in Jolfa region is the Kiyamaki mount with 3347 m and the lowest points include the northern boundary and the Aras river valley with 720 to 390 meters. Given to its climate, the area has a diverse vegetation, so that Aras valley is covered by subtropical trees, since the western and middle parts are dominated by steppe, and Arasbaran dense forests are seen on eastern slopes. The permanent snow line is located above the altitude of 3000 meters.
The main river in the area is the Aras river that make the northern boundary of the geopark with Armenia and Nakhchivan Autonomous Republic. The continues roaring steam of the river passing from northwestern to northeastern drains surface waters in the area. The river in downstream meets the Kura River and at last flows into the Caspian Sea.
The area has an appropriate geo-tourism attraction, because of its mountainous landscapes, and outcropping different sedimentary and igneous rocks, diversity in tectonic structures, semi-cold and semi-arid climate and diverse flora and fauna.
Main geosites in the Geopark include Kamtal, Marakan, Darediz and Kiyamaki localities, that given to their diverse flora and fauna, are protected by Iranian Department of Environment. Among the most notable geological features of the Geopark can mention to Paleozoic-Mesozoic sedimentary rocks sequence, especially the conformity of Permian to Triassic sediments, that is very interesting for geologists, plutonic provinces and extensive granitic rocks which is covered eastern part of area, volcanic and sub-volcanic provinces that form Kiyamaki dome, compression regime resulting from Alpine Orogeny which causes developing different structural features such as faulting, trusting and folding of rocks, fossil site localities, mineral springs which deposit travertine, and at last the Aras River and its related geomorphic features. Each of these phenomena can shows different orogenic phases, its forming processes and life history on our planet.
Aras Geosites
Geosite is a part of a Geopark where a number of geological features are located near to each other, and its important geological phenomena can be visited completely in a short time. Geological heritage in each geosite include astonishing landscapes and amazing geological phenomena with scientific, educational and aesthetic significance that enchanted visitors and imply them to the mysterious Earth's history.
Aras Geopark is located where the string of micro-continents or Cimmeria collided with paleo-continent Laurasia, and its outcrops cover a wide range of different rocks from Paleozoic to Cenozoic sediments, plutonic, volcanic and well as metamorphic rocks. The maximum height difference is more than 2900 meters, so one can expect so many geological features and topographic views in each of its geosites. Among the important geosites in the area are Aras River, Kamtal National Park, Marakan Protected Area, Dare-diz Protected Area, Asiyab-kharabe (broken mill) water fall, Kiyamaki volcanic dome, and Maharan waterfalls.
Aras River
Aras River is located in the northern part of the Geopark that flows from west to east of the area. The river is the political border between Iran in the south and Armenia and Nakhchivan Autonomous Republic in the north.
The most distant sources of Aras river are Bingöl mountains in the south of Erzurum province in Turkey, 240 km far from Iranian border, passing through countries include Armenia, Iran and Azerbaijan, with a length of 1072 km, flow into Kura River and at last into Caspian Sea. Morphologically, Aras channel is mostly braided and longitudinal braid bars as long single islands can be seen along its channel. These braid or mid-channel bars are resulted from deposition of river gravel load when the discharge is low.
Kamtal National Park
Geologically, Kamtal National Park is located on a huge granitic intrusion, formed in Eocene Epoch (56 to 34 Ma), in the Cretaceous sedimentary rocks (145 to 66 Ma). Thermal contact metamorphism is restricted to the zone surrounding the intrusion. So that, a wide range of various rocks include intrusive igneous rocks, and volcanic and sub-volcanic (as sills and dikes), contact metamorphic and sedimentary rocks, especially travertine (around the hot springs) are observable in a limited distance, less than 10 km length. Such a diverse lithology is very unique all over the area. Among the most significant geological features can be name from mineralization as veins contain copper and iron, fossil localities, numerous caves and plenty of dikes that occur as long dark continues walls in limestone cliffs.
Kamtal National Park contain some of most beautiful intact landscapes in the Geopark, as a last stand castle for wild life, that fortunately save its bio-diversity. Its green meadows replete with flowers mesmerizes any visitor.
Marakan Protected Area
Marakan protected area is located at the west of Geopark. In this region we can see the oldest lithological units in the Geopark, namely Jairood Formation aging Devonian Period (420 to 360 Ma) which constituted most extended outcrops as well. Permian and Triassic sedimentary rocks including limestone, dolomite and sandstone outcrop in the area too. These rocks are rich in term of fossil content, and fossils of some of the extinct ancient animals like brachiopods, pelecypoda (bivalve) and ammonites can be found in these sedimentary rocks.
Faults and thrusts in the area caused a significant strike-slip and reverse movements, and there is rhyolite-dacite extrusions, sills and dikes with dark colors outcrops.
Marakan region with sharp cliffs and steeped crags resulted from missive limestone and dolomitic beds and fault scarps, is blessing gift for wild life as well as who love natural astonishing perspectives.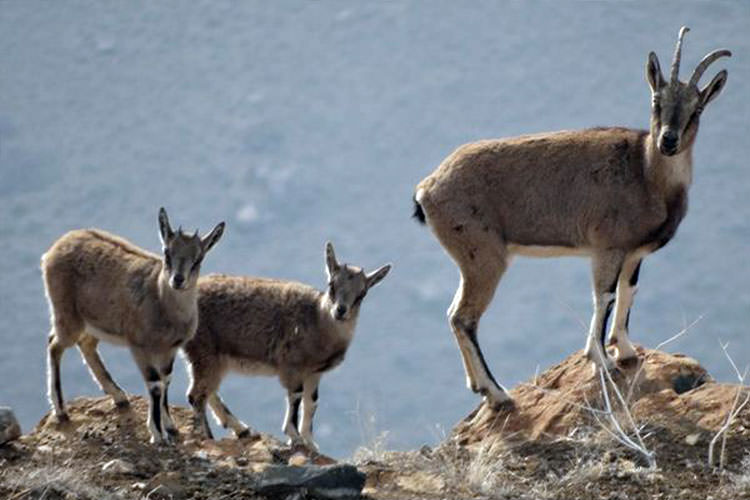 Dare-diz Protected Area
Another important geosite in the Geopark is the Dare-diz Protected area. Visitors who enter the Geopark via Tabriz road from the south way, whether by car or train, first of all, encounter with huge cliffs and elevated hilltops of this geosite.
Competent limestone and dolostone beds from Devonian, Permian and Triassic Periods, as well as Devonian Andesitic lavas constituted main part of outcrops in the region. Compression caused by continental collision in Alpine orogeny from the late Triassic Period to present, has led to significant bed folding on each other and thrusting them in a large distance.
Stunning scenic views of the geosite area with observable thrusts and strike-slip faults, systematic joints, fault related folding and micro-folds can excite every visitor and create ineffaceable memories. Vast outcrops of limestone-dolostone formations with missive well bedded can help to detect structures like different type of folds and faults. Sedimentary layers rich in fossils of Brachiopods, Pelecypoda, Corals, Echinodermata and Ammonites has completed this beautiful picture.
Apart from its unique structural geology specifics, Dare-diz geosite has a significant biodiversity, both in flora and fauna, that placed it in the list of protected areas in department of Environment.
Kiyamaki Volcanic Dome
One of the most important factors in creating such a sharp and steep topography in the Geopark is volcanism in geological history of the area. Most significant volcanic activity has occurred in Oligocene Epoch (34 to 24 Ma), which lead to creating Kiyamaki mount.
The dominant lithology of its volcanic rocks is Dacite. It is extrusive igneous rock that form in result of magma eruption from the depth in the Earth. Large silica content of Dacitic magma make it very viscous. So these types of magmas flow hardly and slowly on the ground. In the way to waterfalls, looking carefully, one can distinguish the boundary between this Dacitic lava and their underlying limestone rocks.
With elevation of 3347 m above sea level, topographic prominence of 2000, and height of 2600 above Jolfa Plain, the Kiyamaki summit is snowy and cloudy in most of the year. The summit is iconic, it is among the popular climbing targets and many climbers try to ascent it every year.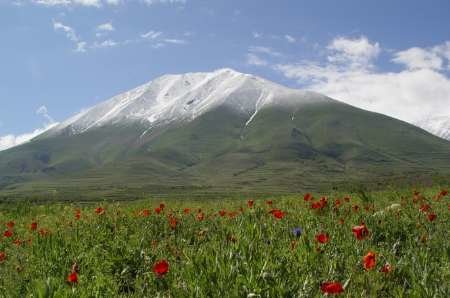 Maharan Waterfalls
One of the geo-tourism interesting in the Geopark is the western steep slopes of Kiyamaki mountains and the valley ended with Maharan waterfalls. Maharan valley with its roaring waterfall cascades can be reached by walking on a rural road from Qeshlaq village to its nearby valley.
Some of the most interesting geological features in the area include prismatic joints formed in volcanic rocks, also Quaternary glacial evidences in the hemispherical valley of Qeshlaq village. The latter has formed as a great depression like a large scale amphitheater which presents a glacial cirque.
Breathtaking mountain views and significant climate change from this region to its downstream is so that has a pleasant weather with relatively low temperature even in early summer, attracting many visitors.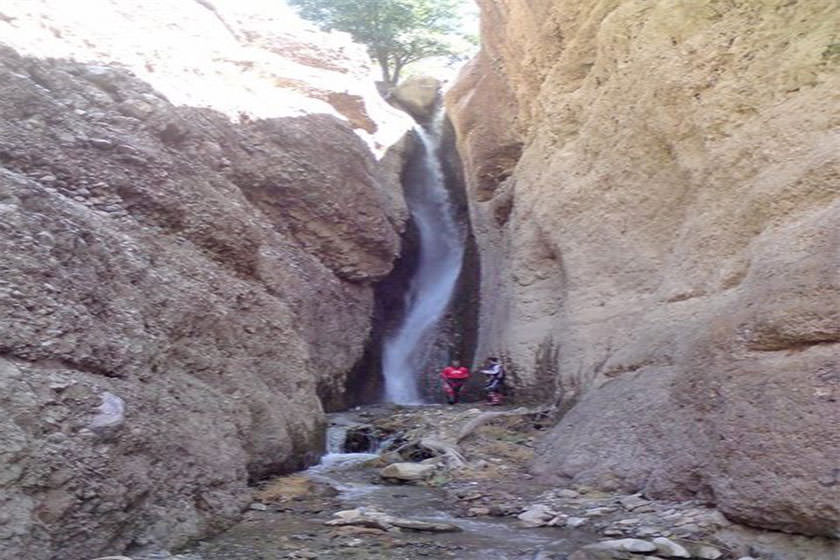 Asiyab-kharabe Waterfall
Asiyab-kharabe (broken water mill) waterfalls is located in 25 km east of Jolfa city, along the Jolfa-Siahrood road. In this location, near an abandoned watermill, there is a travertine spring that flows from a cleft in the rocks. The cleft, in fact, is the entry of a cave that long 150 m and end to a chamber where is the main appearance of the spring. Its water stream passing close to the abandoned watermill end to a waterfall with a height of 10 m, where dense hydrophilic plants are grown.
Beautiful folding stretched in Cretaceous flysch deposits on the left side slopes of Asiyab-kharabe valley. These chevron folds in the alternate sandstone-shale layers provide a wonderful perspective and attract the interest and curiosity of people. Fossils and various sedimentary structures in the base of sandstone beds complete this stunning picture, phenomena that represent bioactivity in the Neotethys seabed living near 70 million years ago and probably are ancestors of some of the present day animals.
How to get there!
Aras Geopark area is located in the northwest of Iran,east Azerbaijan Province and spread across the whole Jolfa county. The county has three cities: Jolfa, Hadishaher and Siah-rood. It is easily accessible from various parts of Iran and neighbouring countries by air, rail and road.
Climate
This area is mountainous and features semi-arid and semi-cold climate. Average annual precipitation ranges between 250 to 350 mm and the mean temperature is about 15 oC.
Approximately seventy days of the year are considered as the number of freeze days. In seasons, particularly spring and fall, the temperatures are more moderate and it is the best time to visit this area.
 By car
There is 136 Km distance between Tabriz and Jolfa. It would take 1 hour 40 minutes to go there. It will pass by Sofian and Marand cities which is the shortest way to get there. The old road which is run a little way to the north and is crossed Kalibar city, is another way to travel from Tabriz to the Geopark and Jolfa area. Although it takes longer time to reach your destination, you will be interested in Iran's natural sceneries.
The Geopark region is located in Aras free trade-industrial zone, therefore imported cars that intend to travel in free zone must have a special license plate. These cars are free of customs duty and are allowed to travel anywhere within a radius of 135 km, even city of Tabriz.
By bus
Every day numerous buses from all over the country especially Tabriz and Tehran, travel to the area and Jolfa city. Hadishahr city is the terminal for the buses going to the Geopark. If you want to know, it just takes 10 minutes to get from Jolfa to Hadishahr by car.
By train
Trains from Tabriz have regular services into Jolfa. Tabriz trains travel to and from Jolfa on a Daily basis drop-off at 8:15 and 8:45 and pick up at 19:00 and 19:45 from Jolfa station. It's takes 2 hours and 45 minutes. You should know that the passengers who travel by train during New Year's Eve in late March to early April are free of charge.
If you want to travel to Tabriz and Jolfa from Tehran and elsewhere, the time of arrival from Tehran to Jolfa is at least 17 hours. Although it is a long journey, you can enjoy your trip by sightseeing and relaxing along the way.
By Air
Tabriz airport is the nearest airport to Jolfa. To get from the airport to Jolfa county only takes one and a half hours by car.
Recently for the first time in Iran, an Air taxi services has been launched between Tabriz and Jolfa by helicopter in Aras free zone. This allows you to travel faster and more conveniently than before as it takes just 40 minute to reach your destination.
Reference: http://arasgeopark.com
http://zamingasht.com/wp-content/uploads/8706563-4541-l.jpg
533
800
S.M.Mirkazemian سید مجید میرکاظمیان
http://zamingasht.com/wp-content/uploads/cropped-ZaminGasht-logo-1395-07-11-300x138.png
S.M.Mirkazemian سید مجید میرکاظمیان
2019-02-24 11:04:34
2019-02-24 12:02:59
Aras Geopark